PELSTE 2021 offers participants and audiences the opportunity to learn and discuss the frontline Peace Education and Lesson Study. Online Symposia for Peace Education and Lesson Study are going to be held on March 20th and 21st. For facilitating participants' inquiry, PELSTE will provide several learning materials before symposia.
There are two ways to participate in PELSTE 2021: Participants or Audience. The former category follows three steps of registration (January), study (February), presentation at the symposium (March), the latter category follows registration (February), free study (February), and participation in symposia (March).
Category A: Participant
Participants are to do full-participation that they will have to study materials online in February and to organize online symposia with other participants. Symposia comprise from two sessions: Peace Education and Lesson Study, so participants choose either of those programs.
Schedule & Obligations
Registration: December 15th, 2020 – January 20th, 2021
See below:

Eligibility & Application


Invitation Letter will be sent to the delegates on February 10th
Preparatory Study Weeks: February 20th to March 15th: Link for study materials will be attached HERE (TBA).
Participants study learning materials with key Questions. Detail will be announced in February.
Submit Report: March 15th
Report theme will be announced on February 20th
Present your idea at symposia based on the report: March 20th and 21st
Coordinators of EVRI, Hiroshima University will request your commitment to developing discussions.
Eligibility for Participants: PELSTE 2021 is open to students and faculty of INEI member institutes:
who is a graduate student currently enrolled in master or doctoral programs; or
who is faculty who shows interest in Peace Education, Lesson Study, and teacher education; and
who has demonstrated fluent English communication skills and strong wishes of collaboration to do research on Peace Education and Lesson Study with Hiroshima University faculty.
Application: Every INEI member institution can recommend one applicant for the Peace Education section and Lesson Study section respectively (max two applicants for each section will be available) to the EVRI secretary.
Please send a recommendation package to EVRI administrative assistant at evri-info@hiroshima-u.ac.jp, with the title "EVRI-HU PELSTE 2021 Recommendation + Your institution name." Shall you have any concerns or questions regarding PELSTE 2021, please feel free to send e-mail to Dr. Kusahara and Dr. Miyamoto via evri-info@hiroshima-u.ac.jp.
The recommendation package must contain 1. applicant's CV & contact information; 2. one short recommendation letter from the Dean or the Associate/Vice Dean of Research and/or International; 3. registration for either Peace Education or Lesson Study. Application for both sections in one package is allowed.
Timeline for Applicant Recommendation: No late application will be accepted.
December 1st, 2020: Announcement of EVRI-HU PELSTE 2021;
December 15th, 2020: Registration for 'Participant' begins
By January 20th, 2021: Deadline for recommendations;
By February 10th, 2021: Announcement for admission.
Certificate: Certificate will be issued for participants. This certificate will also be the invitation letter to the next PELSTE program that welcomes participants to Hiroshima for further study and collaborative work.
Category B: Audience
Audiences are to attend online symposia that Participants (Category A) will present. There will be no selection process for Audiences, who however need to apply through a website form. Audiences are also open to learning materials for free will.
Application: The website form will open from February 20th to March 10th, 2021. Link for application form will be attached HERE 
Attendance: Audiences will gain access to online symposia and learning materials. Audiences are free to attend both online symposia and be involved in discussions.
.
2. Welcome MessageGreetings from PELSTE 2020 Members
Participants in PELSTE 2020 set us video messages for welcoming PELSTE 2021. PELSTE 2020 members left us a tremendous amount of fruitful notions for Peace Education, Lesson Study, and Teacher Educator Development. Please watch videos to know more about PELSTE.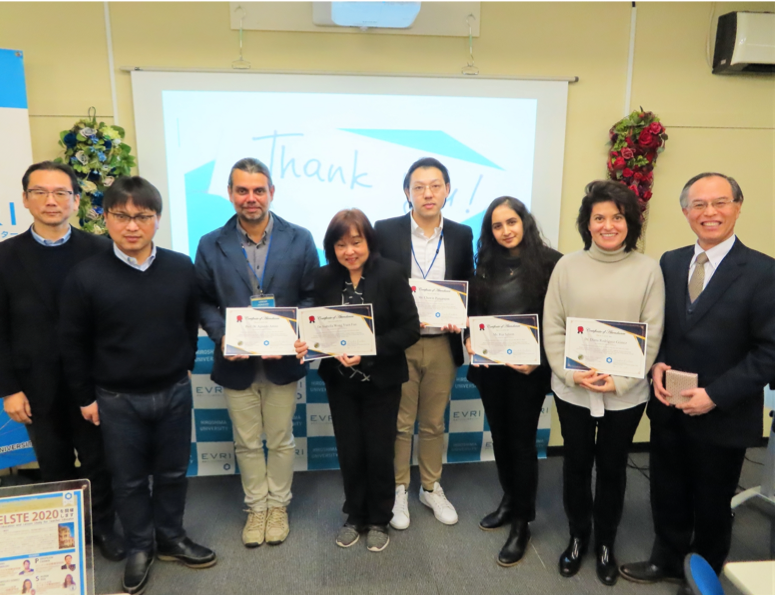 .
| | | | |
| --- | --- | --- | --- |
| fff | Prof.Dr. Agnaldo Arroio Faculty of Education of the University of São Paulo(Brazil) | | |
| | Dr. Diana Rodríguez-Gómez (Ed.D.) :University of Wisconsin,Madison(America) |   | Without a doubt, PELSTE 2020 has been one of the most enriching learning experiences of my life. With great care and attention to detail, the team led by Professor Kusahara created plenty of hands-on opportunities for collaborative learning. Thanks to the skillful combination of lectures, workshops, and visits, we learned about different educational approaches to peace education and the Japanese unique professional development model, lesson-study. The team expanded these activities with many opportunities to engage in open dialogue with public officials, school administrators, teachers, and students. Rich discussions with colleagues from Hiroshima University and those who, like me, traveled from Brazil, Canada, Singapore, and the UK enriched every single moment of the full experience. For anyone interested in learning with others about education in Japan, PELSTE is the place to be! |
| | Dr. Isabella Wong Yuen-Fun (Ph.D.)The National Institute of Education, Nanyang Technological University(Singapore) |   | |
| | Mr. Chawin Pongpajon:UCL Institute of Education(England) |   | As a doctoral student with a passion for education for peace, PELSTE 2020 provided me with an invaluable learning experience. School and museum visits to see how peace has been integrated into Hiroshima education and society gave me opportunities to have thought-provoking discussions with Japanese teachers, lecturers, educators, students and the locals. This helped me achieve better understanding of the unique meanings and characteristics of peace education in Hiroshima. This programme also gave me the opportunity to learn alongside like-minded people, including Hiroshima team and other participants around the world. The harmonious relationships forged throughout the programme were priceless and paved the way for potential collaboration among us. The extraordinary kindness of the Hiroshima team in taking care of all participants impressed me and are never far from my mind. For master and doctoral students who are interested in peace education and also in teacher education, PELESTE is highly recommended to broaden your study experience. |