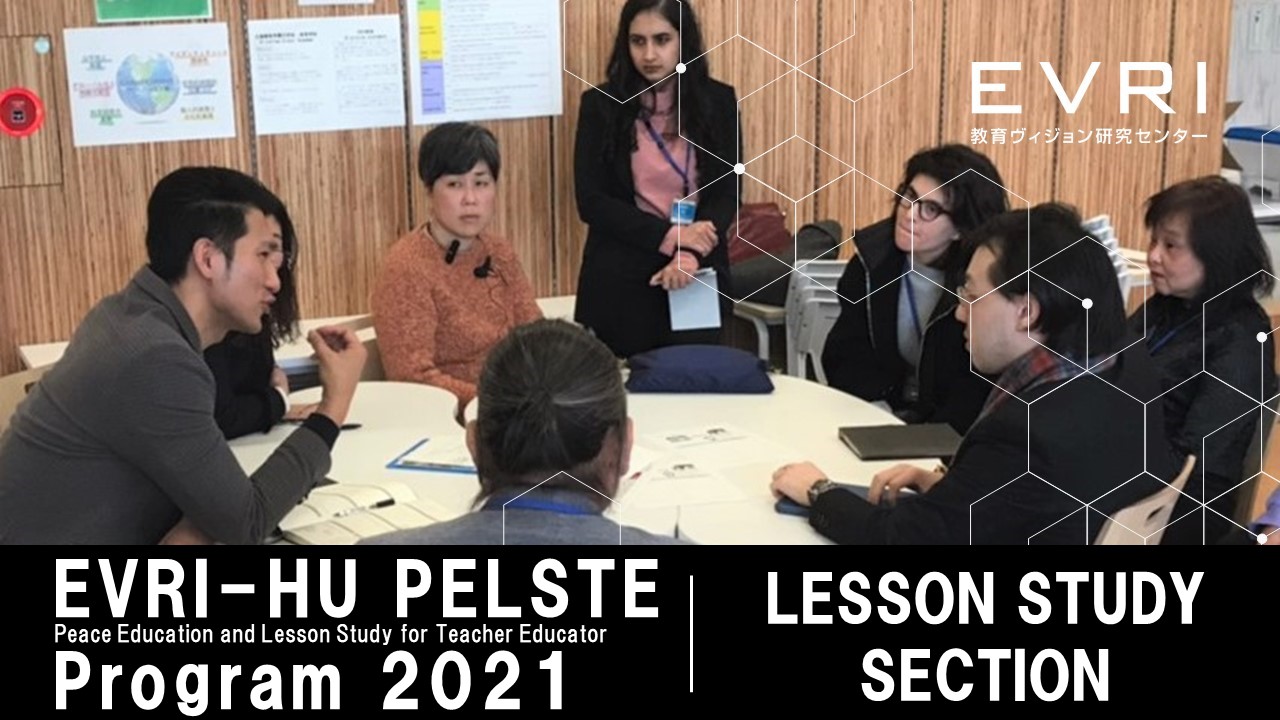 Lesson Study SectionGeneral Information
The Lesson Study Section of PELSTE 2021 held a symposium on March 21, 2021. We aim to observe the global landscape of Lesson Study and teacher education so as to explore the new horizon of Lesson Study for the professional development of teachers.
On this page, you will find general information about our symposium as well as learning materials including some videos and further readings.
*This page is an archived page that originally opened for registration and offerinf learning materials. Now all programs and details are updated at the top page PELSTE 2021 (JP/EN)
>>Links<<

PELSTE 2021 Top Page
PELSTE Peace Education Section Information
PELSTE Lesson Study Section Information
PROPOSALS by PARTICIPANTS
You can see the commentaries by three participants that will be presented during the seminar.
| | | |
| --- | --- | --- |
| Agnaldo Arroio's Commentary | Indira Subramanian's Commentary | Kaycee Rogers's Commentary |
| | | |
【Schedule】
 

Date & Time

March 21 (Sun), 2021
10:00 pm-12:00 am (JST: Japan)
1:00 pm-3:00 pm (UTC)
※Please confirm the time regarding summer time
*Deadline for registration:March 16, 2021 (Tue.) pm 6:00 (JST)

Form

●Online Symposium (Zoom)

Title

●PELSTE 2021 Lesson Study Section

Registration

CLICK HERE TO REGISTER (Google Form)
---
Participants & Coordinators
PELSTE 2021 welcomes three delegates from INEI institutions as "participants" who will present their ideas at the symposium.
【PELSTE 2021:Participants】
Dr. Agnaldo Arroio
University of São Paulo (Brazil)
"Hello everyone, I will introduce myself briefly my name is Agnaldo Arroio, I am from the Faculty of Education of the University of São Paulo in Brazil. I have a background in Sciences and in Audiovisual and I try to develop my work articulating the different fields in Education. I am interested in getting to know new cultures, places and people and I think this initiative contributes to an intercultural dialogue. I like to work with teachers who deal with the day to day of the school, because it brings us closer to reality. Other more academic information can be found on my CV"
Learn more about Agnaldo
Ms. Indira Subramanian
Nanyang Technological University (Singapore)
"Indira brings in two decades of experience in the field of teaching, curriculum development, and teacher training. She began her career as a teacher before moving into teacher education. She has worked extensively strategizing and facilitating ground level solutions for teacher development in India by working with international partners.
In addition to conceptualizing whole school improvement solutions, she has designed programs and facilitated workshops for heads and teachers across various geographies. She has also headed projects dealing with intensive, alternative teacher preparation courses blending digital and face to face modes.
She is currently a doctoral student in education at National Institute of Education, Singapore."
Learn more about the delegate
Ms. Kaycee Rogers
University of Wisconsin-Madison (United States)
"Kaycee Rogers is an ESL Faculty Associate in the Secondary Teacher Education Graduate program at the University of Wisconsin-Madison. She is passionate about teacher education, and improving the cohesiveness between the current needs of K-12 students and the preparation of future teachers. Her expertise is in ESL, having worked with language learners in a variety of K-12 settings, including international bilingual education, immersion setting, and English Learner programs.


She is a professional educator with a drive to improve education. She stays current with public policy regarding education, and is interested in effective teaching. She was recently accepted to the doctoral program in Curriculum and Instruction at UW Madison, and will begin her PhD program Fall 2021, studying Teacher Education and ESL/Bilingual Education."


Learn more about the delegate
【PELSTE 2021:Coordinators】
Dr. Brett Raymond Walter
Foreign and Second Language Education, Intercultural Education
"I am looking forward to hearing international interpretations of our lesson study."
Learn more about the coordinator
Dr. Jongsung Kim
Social Studies, mutual understanding
As a "Stranger", I have been exploring Lesson Study-based Teacher Education in Japan. I am looking forward to talking with my fellow "Strangers" about Lesson Study!
Learn more about the coordinator
Dr. Nariakira Yoshida
The educational method, Lesson Study
Let's step forward from Jugyou Kenkyuu in Japan to the Lesson Study of the world!
Learn more about the coordinator
POSTER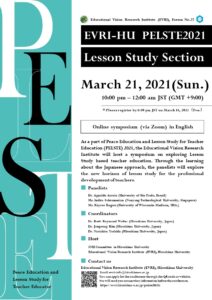 ---
Learning Materials
Key Questions
Here are the Key Questions that we will explore at the symposium. You can use them as guidelines when going through the learning materials in advance.
Audiences are also welcome to prepare for their engagement in PELSTE 2021 by thinking about these questions and watching the videos.
1. How and for what purposes has Lesson Study (Jugyou Kenkyuu) been practiced in Japan?
2. How have practitioners in your country accepted and practiced Lesson Study?
3. What advantages do you think Lesson Study has? and How do you prospect the new stage of Lesson Study?
1. Lesson Study Manual for Teacher Educators: International Edition
Hiroshima University organized a large interdisciplinary project team from April 2010 to March 2016 to support a professional development program for the faculty of educational science at the Autonomous University of Santo Domingo in the Dominican Republic. This booklet is the result of the project, from which you will be able to acquire the basics of Lesson Study.
2. Lesson Study in Pre-Service Teacher Education (seminar)
EVRI held a seminar to discuss how Lesson Study works in pre-service teacher education in Japan.
In Part 1, two presenters introduce Lesson Study in relation to teaching practicum and the courses in teacher education. In Part 2, the presenters reflect on their own learning journeys: the origins of their lesson models and the triggers that transformed their lectures and instructions as teacher educators.
When you watch this video, it is recommended that you set up subtitles/closed captions. These will be helpful to "open transcripts" from option "・・・" under the video.
3. Lesson Study in In-Service Teacher Education (seminar)
EVRI held a seminar to discuss the role of Lesson Study in the professional development of in-service teachers, both inside and outside school.
In Part 1, two presenters introduce their cases of in-service teacher education. Part 2 involves discussions about the significance of Lesson Study for in-service teachers.
4. Discussion: Lesson Study-based Teacher Education in Japan (seminar)
EVRI held a seminar to discuss Lesson Study-based teacher education in Japan from a broader perspective (its characteristics, challenges, potentials, etc.)
This seminar first assumes the difference between Japanese Lesson Study (Jugyou Kenkyuu) and global Lesson Study and explores the definition, significance, and challenges of Jugyou Kenkyuu. Part 2 discusses Kyouzai Kenkyuu (study on teaching contents and materials) as one of the core processes in Lesson Study.
---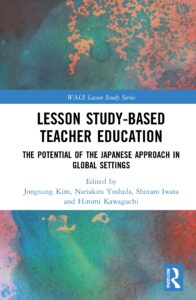 Further Reading
Because the learning materials are partially highly contextual and local, the following links are provided to facilitate learning. Please visit the links below for further reading.