【2021.03.21】EVRI Forum No.25 PELSTE 2021 Lesson Study Section
公開日:2021年03月25日
カテゴリー:開催報告
Ⅰ.PELSTE 2021 LESSON STUDY SECTION SYMPOSIUM!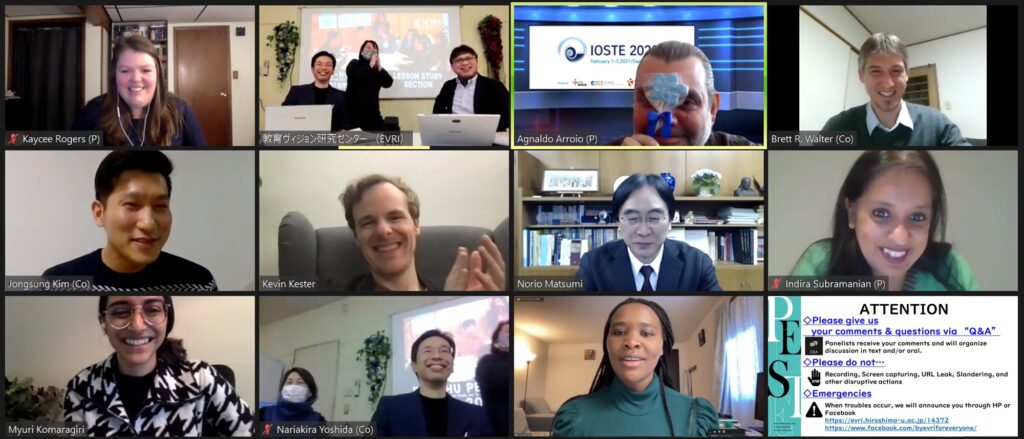 On March 21, 2021, the Educational Vision Research Institute (EVRI), in collaboration with the Internal Committee of INEI at Hiroshima University, held a symposium for Peace Education and Lesson Study for Teacher Educator (PELSTE). The purpose of PELSTE 2021 was to provide a platform for research exchange, so that the Faculty of Education, Hiroshima University can become an international (East Asian) center for "Peace Education" and "Lesson Study" in preparation for the INEI Annual Meeting to be held in Hiroshima in 2024. The symposium on the second day of PELSTE, which focused on "Lesson Study," was held with three participants and 86 audience members to discuss the significance and challenges of Lesson Study.
Firstly, EVRI Director Kazuhiro Kusahara made a speech and explained the purpose and program of PELSTE 2021. Nariakira Yoshida, coordinator of the Lesson Study Section of PELSTE 2021, continued by stating the purpose and activities of the Lesson Study Section, which was to exchange opinions on the significance and challenges of Lesson Study from the perspective of each participant's personal, cultural, and social contexts, based on the common question, "How and with whom do you want to share Lesson Study?"
草原和博教授
吉田成章准教授
金鍾成准教授
Three participants made their proposals.
Dr. Agnaldo Arroio of the University of Sao Paulo, Brazil, based on his participation in PELSTE 2020, found in the Japanese tradition of Lesson Study "autonomy and teacher ownership" with a "prosumer" aspect, and the "school as an educational community" that includes many actors. He proposed to share his Lesson Study with the people of Piauí, Brazil. As that region has many schools, teachers, and children in culturally and socially "vulnerable" circumstances, he proposed a path to empower teachers through the transformation of in-service education programs and the formation of school communities.
Ms. Indira Subramanian of Nanyang Technological University, Singapore, began by describing her own teaching experience in India. She pointed out that Lesson Study can be a sustainable response to the structural and systemic challenges of the Indian teacher education system. In particular, she suggested "six questions" to go through when starting a Lesson Study project in a new place, and emphasized the importance of democratic collaboration and cooperation among teachers. Finally, by going through these questions, she raised the importance of recontextualizing Lesson Study as a Japanese heritage into local contexts full of the cultural and social demands, and the need to overcome "educational borrowing" that ignores these contexts.
Ms. Kaycee Rogers, of the University of Wisconsin-Madison, USA, discussed the significance and challenges of Lesson Study considering the status of teacher training in the United States. Based on her experience as a teacher and researcher interested in learner-centered teaching theory, she proposed the importance of repeating the cycle of class practice, critique, and improvement. She pointed out that the significance of Lesson Study is that it enables collaboration with various stakeholders. It is not limited to the conventional framework of teacher training carried out by a triad of university teachers, supervisors, and trainees. In particular, she emphasized interdisciplinary teacher interaction and pointed out the possibility of capturing students' learning from multi-layered perspectives.
Dr. Agnaldo Arroio
Ms. Indira Subramanian
Ms. Kaycee Rogers
The discussion was facilitated by Brett Walter and Jongsung Kim. It focused on a controversy: that Lesson Study has become an "educational formula". The importance of cultural "recontextualization," which was strongly reflected in the three speakers' proposals, and concrete ways to achieve it were discussed, as well as how to "measure" success.
Cecilia Kyalo, Kevin Kester, and Myuri Komaragiri, the participants in the Peace Education Section, also joined the discussion. They argued that Lesson Study has the great advantage in "systematizing" teachers' educational experiences, and that it has potential to transform black box classroom practices into objects of teachers' collaborative inquiry, and, through this inquiry, to "discover" the existence of diverse cultures brought into the classroom by children and teachers, and finally to "connect" them to classroom development. On the other hand, further questions were raised about the consideration of "context" that cannot be avoided in the intercultural development of Lesson Study. The following matters were specifically raised: how to avoid reducing the complexity of different cultures in the process of such "well-systemized" Lesson Study, how to motivate new actors to engage in Lesson Study, and how Lesson Study can be connected to teacher well-being. Throughout the discussion, the importance of critically questioning the "success" narratives that are often promised in Lesson Study was confirmed.
Finally, Dr. Norio Matsumi, Dean of the Department of Education, Hiroshima University, gave the closing remarks. EVRI, the organizer of PELSTE 2021, will continue to develop the front line of Peace Education and Lesson Study in the coming years.
Dr. Brett Walter
松見法男教授
EVRI, the organizer of PELSTE 2021, will continue to develop the front line of peace education and lesson study in the coming years.
You can see the commentaries by three participants that will be presented during the seminar.
| | | |
| --- | --- | --- |
| Agnaldo Arroio's Commentary | Indira Subramanian's Commentary | Kaycee Rogers's Commentary |
| | | |
Ⅱ.Ask for your opinions
Thank you for participating, we are kindly ask you to answer few questions regarding this seminar.
please click here so that you will find the page for questionnair.
---
*EVRI Forum No.25 Flyer
Click here to access program of PELSTE 2021 Lesson Study Section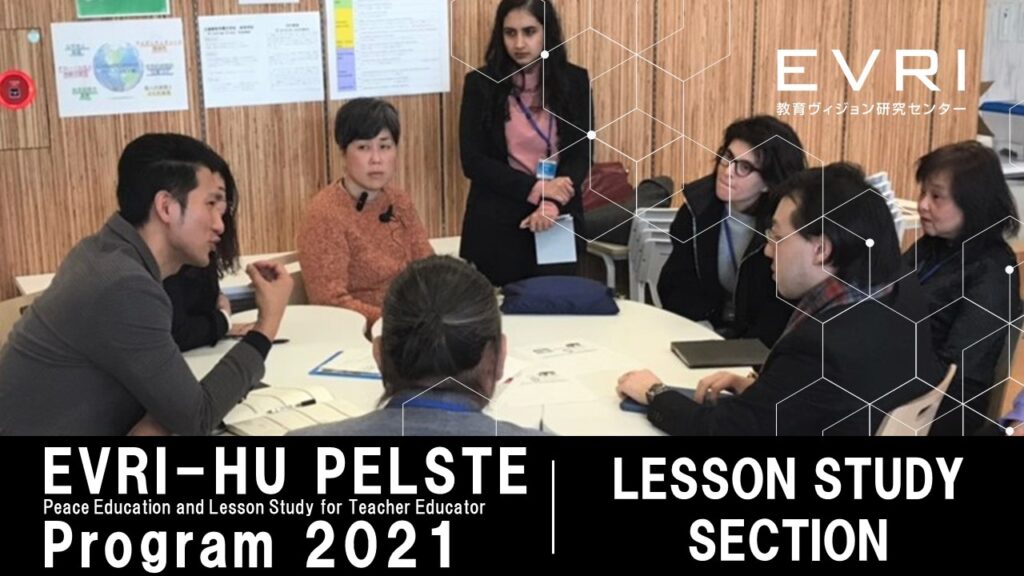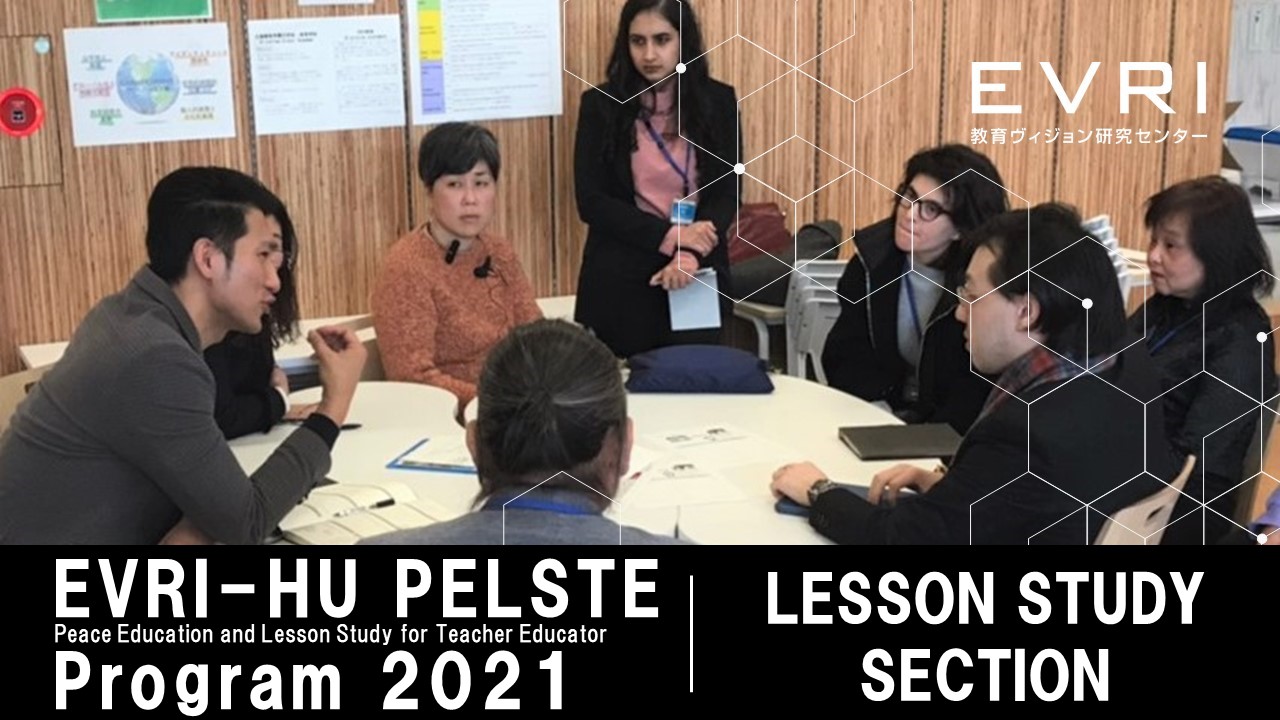 ---
We appreciate if your could give us your comments about the event. Click the banner below

---
Click the banner below to